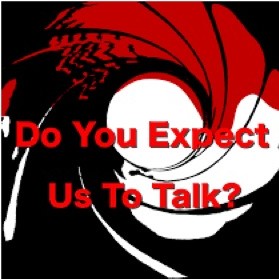 Do You Expect Us To Talk? returns to start a new series with what many consider to be the contemporary  rival to Bond.  Based on the book series by Robert Ludlum, The Bourne Identity stars Matt Damon as man with no memory of who he is. Only that he has two bullet holes in his back, the ability to fight and speak serval languages. Little does he know that he has the CIA after him who would rather terminate him to cover up an assassination attempt as well as the man who he tried to kill. 
Join Becca, Dave and Chris as we discuss if this franchise had a real impact on the Bond series, when did regular actors start to do action films, what has Franka Potente been up to and how good is Run Lola Run, who is the real Brian Cox, Clive Warren and try and fail to not pronounce Matt Damon in the style of Team America. 
You can listen here.
You can follow us on Becca, Chris and Dave on Twitter
You can find us on iTunes, Spotify, Stitcher and Google Podcasts, all you have to do is search. Also, if you like us leave us a lovely review as it helps us grow. If that wasn't enough, you can even you can follow us on Twitter and like us on Facebook.
Do You Expect Us To Talk Will Return with The Bourne Supremacy