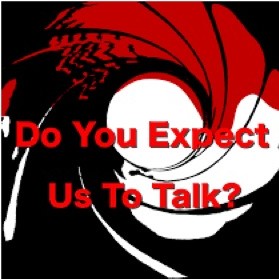 Another episode and another Bond as everyone's favorite spy regenerates into a smooth talking Irishman. Goldeneye is Pierce Brosnan's first film as James Bond after a long absence from the screen. Directed by Martin Campbell and also starring Sean Bean, Izabella Scorupco, Famke Janssen and featuring Judi Dench in her first appearance as M.
Goldeneye is an interesting watch as it's beloved by most Bond fans and considered to be Brosnan's best. However we pick it apart from the plot that makes no sense right down to that awful Éric Serra score.
Please send us an email at expectustotalk@gmail.com to give us any feedback or add your own thoughts on Bond.
You can find us on iTunes and Stitcher and if you like us leave us a lovely review as it helps us grow. If that wasn't enough, you can even you can follow us on Twitter and like us on Facebook.
Do You Expect Us To Talk Will Return with Tomorrow Never Dies